The Sensual Art of Belly Dance
Belly Dancer Amina
Performer/Choreographer
Amina began studying Raqs Sharqi (dance of the East) since 1995. She has been performing in restaurants and for private and corporate events since 1998. Her most influential teachers early on were Kamila and Maja from South Florida. With a background in gymnastics, baton twirling, Kung Fu, fitness and nutrition she sees this dance as a lifestyle change that promotes health, wellness and longevity. She wishes to share this knowledge with as many people as possible, of all ages, races, sizes and genders. She has taught students between ages 5-75 and over during her many years of instruction. She has studied with many local and international instructors such as Suzanne Del Vecchio, Aziza, Jillina, Suhaila, Miriam Eli, Ilsa, Virginia, Hanan, Bozenka, Samay, Amir Thaleb, Tamalyn Dallal, Jasmin Jahal, Jihan Jamal, Maria Jammal and many more.
Amina performed for Arturo Sandoval's birthday party at his home in Miami, and at events including guests such as Gloria and Emilio Estefan, George Hamilton, Michael Rappaport, Thomas Jane and Doug Flutie. Her first restaurant gig was in 1998 dancing at "The Kasbah" Moroccan restaurant in Pompano Beach, Fl. She was the first featured performer at "Ferdos Grill" in Ft. Lauderdale in 2001 and the featured dancer at "My Big Fat Greek" from 2006-2010.
Instructor
Amina has shared her talents and taught belly dance at various senior centers in the South Florida area to promote health, fitness, and well-being. She has taught adult ed classes and taught in many dance studios over the years as well. She is currently teaching private and group classes via Zoom due to the corona virus pandemic. In addition, she is once again teaching private lessons "in-person" at her beautiful home dance studio in Hollywood, Florida. Classes are scheduled on a first come first served basis by appointment only. Vaccines are highly recommended. Good fitting masks are to be worn during classes, even if you are fully vaccinated, due to the rise in cases due to the Delta variant spread.
She has been certified in YogaFit Level 1, ISSA Personal Training, ISSA Fitness Nutrition and Zumba, although she is no longer pursuing Zumba instruction or personal training, she is very knowledgeable when it comes to fitness through dance, yoga, Pilates and various stretching exercises. Finding ways to stay fit and healthy without lots of cumbersome equipment is always a consideration. She also offers stretch and tone classes by appointment. Looking for ways to keep fit and in shape without having to leave the house was always a goal. One met just in time for this past year of being mostly shut in with gyms closed. Zoom has been a valuable tool for continuing classes from home online.
New studies indicate that dance helps prevent Alzheimer's disease. Combinations and choreography as well as various steps and turns are taught to keep dancer's minds sharp and challenge the memory and quick thinking, while creating a killer workout. Drilling movements and isolations in class as well as at home in your own practice will keep you healthier and stimulate that muscle memory.
Amina has trained several dancers some of whom have performed professionally with Amina's performing company "Desert Jewels" and for private and corporate events. Amina and her dancers have shows for all types of events, corporate, private, cultural and senior centers. Shows include choreography, props, improvisation, audience participation and/or instruction.
Performances are suitable for all ages. However, providing as many details of your event as possible will assist Amina in putting together the perfect show or shows for your event.
FYI: No new students will be taken until the 3rd week of August. Please contact Amina after August 17 to schedule your class.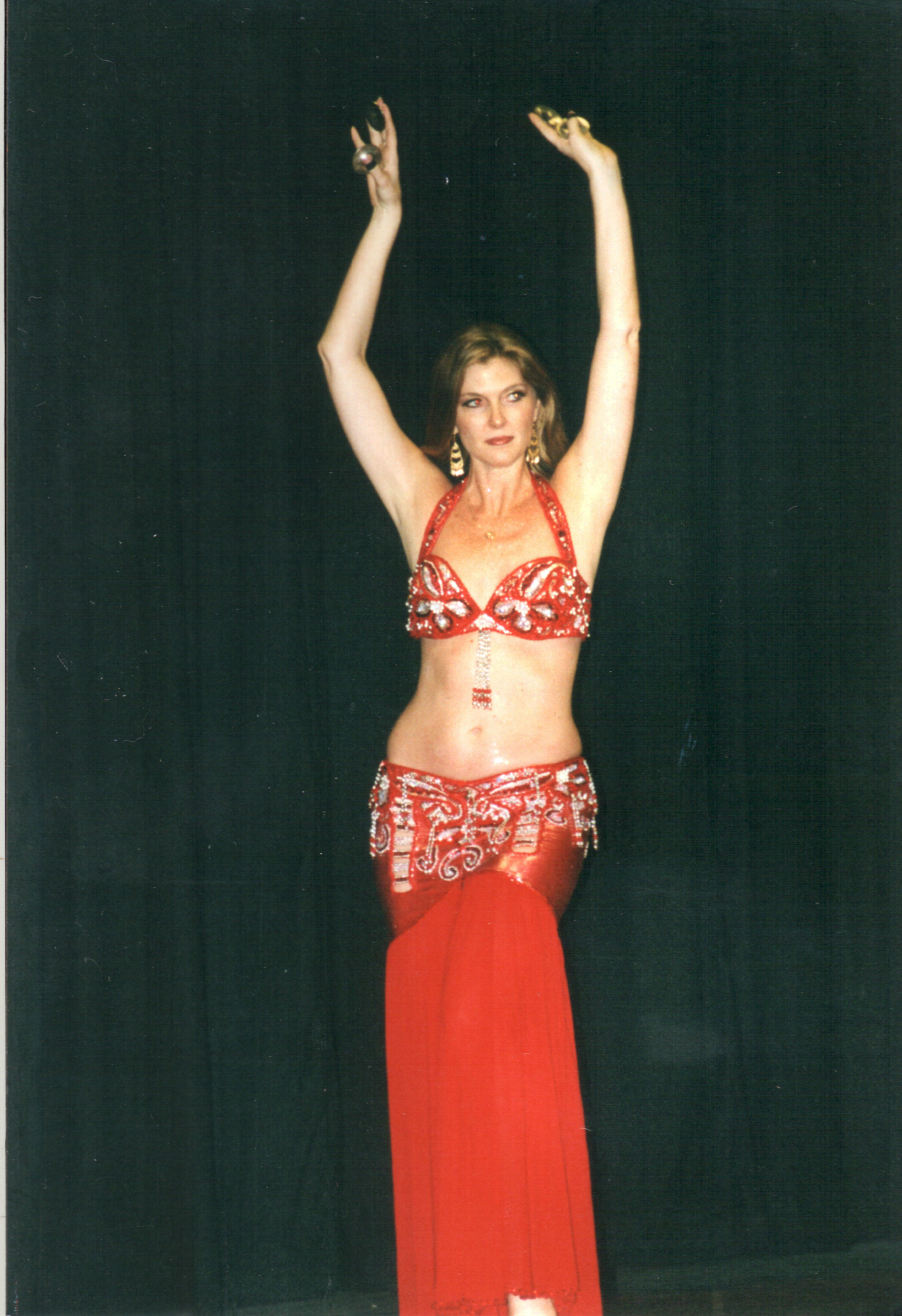 Why Learn to Belly Dance or hire a Belly Dancer?
Performance Options for Your Event
THINGS TO KNOW IN ADVANCE OF BOOKING



Amina's shows are suitable for all crowds, regardless of age, sex or ethnicity. Great for children and teen parties as well. Amina's shows may include improvisation, choreography, props such as veil, finger cymbals, sword, cane, fan veils, Isis wings, candles, and/or live drumming and music. Upon request, she may also provide multiple dancers for larger events; including cabaret and tribal belly dancers, fire dancers, live drumming and/or live Middle Eastern musicians, tarot card readers, and henna artists.
All shows booked for 6:00 pm or later are considered evening performances. There will be a charge of $35 per performer, for shows booked on or after at 11:00 pm, no exceptions. This includes late starts due to client delay in scheduled performance time. Any balances owed are due and payable in the form of cash only at the event, prior to performance.
**Due to the current pandemic of 2020, the recent surge in the Delta variant from India, it is best to have performances located in an open, outdoor area. There must be ample space for performer's show, a distance of 6-10 feet from the guests if performing indoors. Guests should wear a mask during performance as well. This is a must for indoor shows. Amina is vaccinated and if outdoors, she can perform without a mask. In addition, there will be less audience interaction or inviting guests up to dance and only with those wearing a mask, if indoors. Performers will be unmasked outdoors, so social distancing must be adhered to.
Prices are subject to change, particularly with short notice. Please call to confirm pricing and availability when booking a performer or performance. All bookings are on a first come, first served basis and based on performer availability. Advance reservations are highly recommended. A 25% deposit is required to book and reserve a dancer a for your event.
Please pay via PayPal to reserve!
PayPal.Me/amydoyle1827
Client should provide a good sound system for the dancer/performer to play their music. Music can be provided via mp3 player or CD. Please know in advance, if there will be a DJ or sound person for the music and a system with speakers available for the performance area and whether it is a club house, ballroom, private residence or restaurant. Should dancer/performer need to bring a portable sound system with him/her to play his/her music, there may be an additional charge. Large events need to provide a DJ or sound person and sound system.
If you are having an event at a restaurant/bar and would like to have a dancer perform for a birthday, anniversary, or other special event, please check with the restaurant, venue, etc. in advance, to be sure they will allow an outside performer to entertain your guests/tables during your event. Also, be sure to ask if they have an available sound system for use on site and what type of system they have so dancer can have music in the correct format, mp3 player or CD. If no system is available, dancer will need to bring a portable sound system.
Performer(s) will need a greenroom, or other area to prepare, warm up and get ready for performance upon arrival. At the very least a bathroom if no room is available and somewhere safe to store their belongings between shows and while performing.
Pricing For Belly Dance Shows
There are many options to choose from and below are prices for all private and corporate events. For bookings outside the Florida Tri-County area, contact Amina at (954) 895-8153 to discuss options and pricing, or e-mail Amina at amina@bellydanceramina.com.
Belly Gram
15 minute performance-$200-$250

Short show w/interaction. Surprise for a B-Day or retirement party, etc. Perfect for office settings and restaurants. Places with small spaces!
PRIVATE PARTIES/CORPORATE EVENTS/WEDDINGS
Single Show Bookings
Broward County:
25-30 min. performance, weekends.........…......…$250
25-30 min. performance, M-TH………….......………...$225
20 min. performance, weekends.........................$225
20 min. performance, M-TH................................$200
Palm Beach & Miami-Dade County:
25-30 min. performance, weekends……......... $275
25-30 min. performance, M-TH......................$250
20 min. performance, weekends……...............$250
20 min. performance, M-TH………….……...……..$225
1-Hour Booking Options
Option #1 Two (2) shows (2-sets) of approximately 20 min. each, performed within an hour long booking; photos to be taken between shows or immediately following performance.
Option #2 One (1) 20 min. show with photos (optional); short break followed by one (1) 20 min. audience interactive show with instruction.
Option #3 Walk around, meet & greet with guests, photo ops. No structured performance or instruction.
Broward County........................……..........$300 1st hour
Palm Beach & Miami- Dade County……..$325-$350 1st hour
Why not add another Dancer and/or Drummer to the show. Great idea for weddings, corporate events, and large banquet halls.
Additional Dancer/ Drummer or Musician
1 set (25-30 min) …………………………………………...………$225-$250
2 sets- 20 min. ea or walkaround (1 hour)…..........$275-$300
Multiple Hour Bookings
Add $150 for each additional hour booked per dancer, performer or musician/drummer.
CANCELLATION POLICY
There is a 15% deposit due upon booking via PayPal. Deposits are non-refundable unless 2 weeks notice given.
CALL TO RESERVE YOUR DANCER TODAY!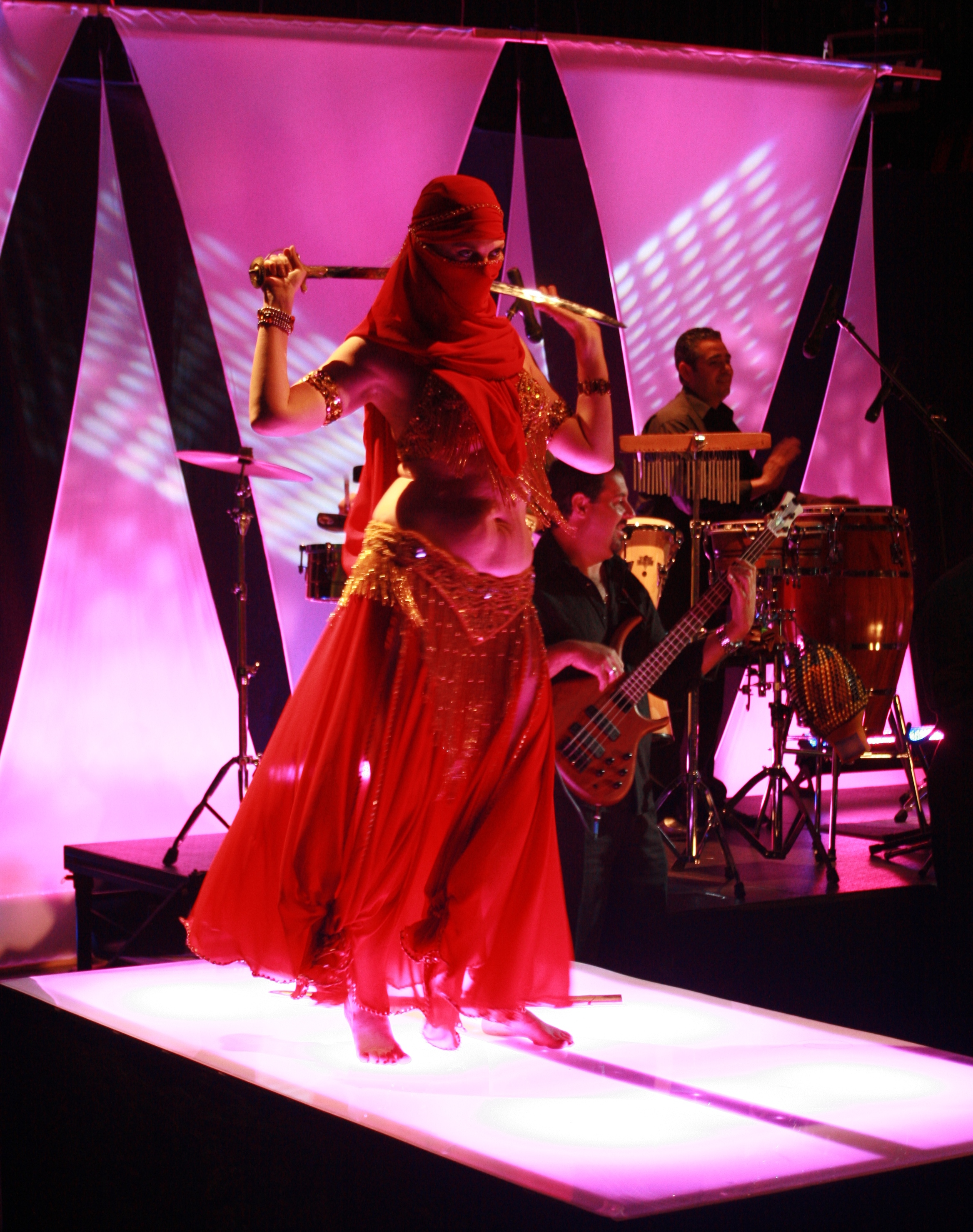 Raqs Sharqi
The Ancient Dance
From the folkloric village style to the glitzy showgirl style, belly dance captures the imagination. In the West we are accustomed to the name "belly dance", but the Arabs actually call it "Oriental Dance" or Dance of the East …. Raqs Sharqi. This is Arabic and literally means oriental dancing which is the classical Egyptian style of belly dance that developed during the first half of the 20th century.
From the fiery dances of the Roma from Turkey and Macedonia, to the complex hip work of the Egyptian Ghawazi and the trance-oriented dances of Morocco, to the Sambra Mora of the Spanish Gitanos, the Arab influence is felt and links strong local traditions. This style of dance has ancient roots and is one of the oldest forms of dance, originating in pre-Biblical religious rites worshipping motherhood.
Belly Dance engages all major muscle groups through their full range of motion using gentle repetitive circular movements and isolations targeting specific muscles groups. This dance form is low impact and gentle on the joints and internal organs. It helps improve posture with proper body alignment; helps ease digestion; increases body awareness, strength, flexibility, and balance; increases muscle tone; and helps manage stress while increasing self-confidence, self esteem and female empowerment. Learn to control muscles you never knew you had while strengthening your core and back.
Let Amina show you the artistry of the dance at your next South Florida party, wedding, or special event or call to schedule your group or private lesson with Amina.
I have been taking online belly dancing classes with Amina. She is amazing. In a short time, I have not only learned so much but also had lots of fun. She is a great teacher and super easy to follow. I have never felt so feminine and graceful. Thank you, Amina!
Danet Figg
Miami, Florida